CUISINE
Thursday 29th June
Timbuk2
(Small Steet, Bristol)
10pm-4am
£4 in advance
[Replay records, Bristol Ticket Shop]
£4 before 11pm / £6 after
Still bored with your regular take-away?
The Cuisine chefs have been working hard on your new menu since last month's launch party.
Once again using the finest ingredients only, they have concocted an exclusive line-up of the most
refreshing food for the ears and the eyes.
Get your knife and fork, the table is set.
Bon appétit!
VJ Lego_man
http://www.legoman.net
from Brussels who will perform for the first time in the UK and will turn the club (Timbuk2 - small street Bristol) into a complete different place :
LEGOMAN [Brussels - Audioactivity]
-Live visuals-
Long time Vj resident at Geneva's The Zoo, Legoman has developped a unique style by projecting his own brand of
graphic creations on non-conventional screens like mosquito nets, statues or buildings...
You'll need your own two eyes to believe it!
http://www.legoman.net
check out the video-->
http://legoman.net/medias/15oct05-idm_night.mov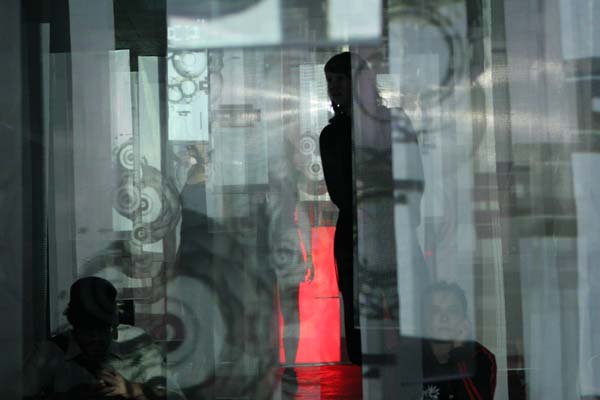 I won't bother you with the lineup, but here's who will have down:
TRANSPARENT SOUND [London - Electrix] -Live-
ORSON BRAMLEY [Orson records] -Dj set-
BUF! & SU-REAL [Octopussy]
D-GELO & IKKAKU [Out Of Phase]
OCTOBER [Fluid Ounce]
KYMA [Emergency/Varial]
LITTLE YOUTH [Creme Fraiche/Cuisine]
Quality visuals and other video delicacies by:
MUDWIG
Live performance by the graffiti artist based on the cuisine/food theme, including live drawing/ painting.
He will be using such techniques as overhead projections with different layers and "light painting" using a motion tracker.
vjs:
DEE [Octopussy]
CRUSTEA & CLU [AntiVJ]
vjlab:
You will be able to play around with a midi keyboard linked to a VJ software and projector,
composing your own visuals /songs using a database of audiovisual samples.
vjschool:
We'll do a VJing course / introduction to Vjing, including a basic overview of Arkaos software, and some interactive audiovisual installation involving Arkaos as well.
http://www.cuisining.com